Being retired, I am watching all the Olympics that I want.
I am recording the three channels that I get. In 24 hours this weekend I recorded 36 hours of competition and commentaries. Of course I fast forwarded much of it... and I had the remote control to watch all I wanted!

Don is begging me to watch something else with him tonight. Before he went outside earlier, he said, "I'm tired of the Olympics!" :(

But I cannot tire of the swimming and the gymnastics! I was so involved in the tennis that when my sister called she did not recognize my voice!

I love hearing the stories from the different cultures and backgrounds and the obstacles and hardships that many of the athletes have had to overcome to be there. Did you know that Ryan Lochtes has a Cuban mother with a background much like mine. In this Interview with his mother she tells how he loves the Cuban food that his 91 year old Cuban grandmother prepares for him.
No matter the age, the competitors give their all. The oldest male participant is 71-year-old Hiroshi Hoketsu of Japan who guided his horse, Whisper in the dressage test at the equestrian arena. This quote is from an interview with him:
Faced with the inevitable question of whether this would be his last games, or whether he intended to return at Rio aged 75, he paused for an instant.
"No. I want to but I don't think I can because it's very difficult to find a horse to bring me to

Brazil

," he said. "My present horse is too old for that." Present. A small but significant word.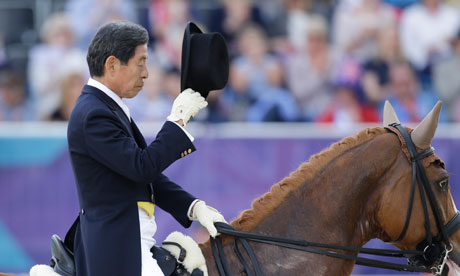 I think that the sports that we like to watch the most are those that we have tried ourselves. Today the synchronized swimming started and I love it because I did some of that 30 years ago.
I also get hypnotized by the sports that are so amazing! - For me, the speed of ping pong, the stamina required in long distance races, and the awesome height and trapeze ability with the trampoline and the uneven parallel bars.
I wish they had shown more fencing, or did I miss it?
My least favorite Olympic sport? Women's weight lifting!
One more week of Olympics left!!

How about you? What are your favorites and what is your least favorite? Let's not comment on the commentaries or the announcers or the fact that we had to get used to watching a competition where we already knew who won! That was a new one to me!
Google likes the synchronized swimming too!